Venue & Travel
The conference will be held at Johannes Kepler University Linz (JKU) main campus, in lecture hall HS 1 (Kepler Building).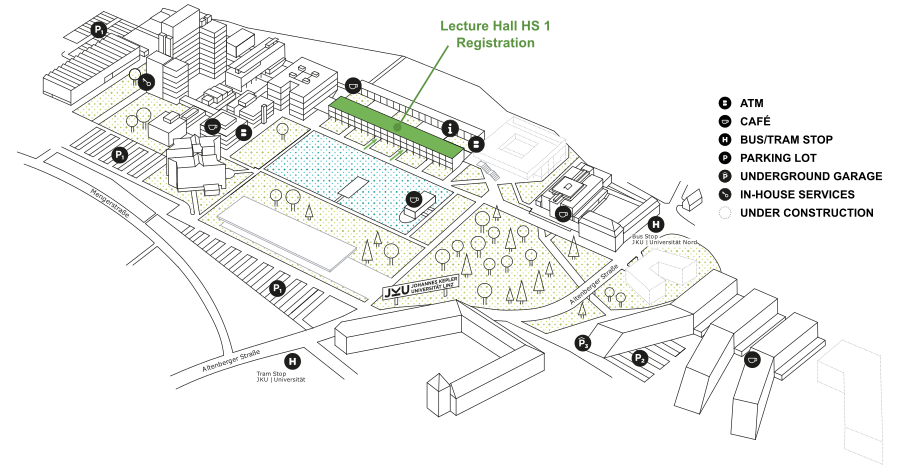 Directions
Linz can easily be reached by plane or train.
By plane
Traveling to Austria is most easy via the Vienna International Airport (IATA airport code VIE). From the train station directly at Vienna airport, Linz can be reached via train lines operated by the Austrian railway company ÖBB. Some airlines (e.g. Austrian Airlines, Lufthansa) also offer flights to/from Vienna airport including the train to Linz central station ("Linz Hauptbahnhof", train station close to the city center) as a flight segment. Linz central station has the IATA airport code LZS in that case.
There is direct flights from Frankfurt and Düsseldorf to Linz Airport (IATA airport code LNZ). Bus line 601 connects the airport and the city center (bus terminal at the central station).
By train
The city of Linz is on the Westbahn train track, and the central trains from both, the Austrian railway company ÖBB as well as Westbahn have stops at Linz central station ("Linz Hauptbahnhof").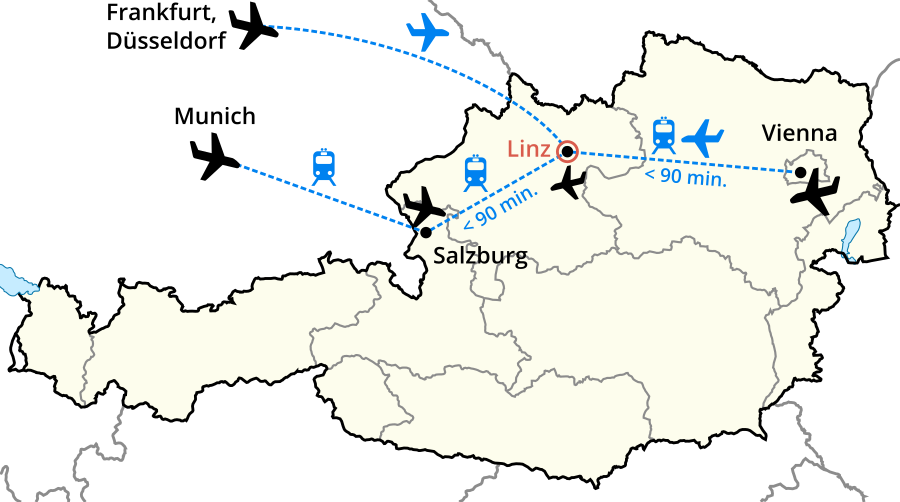 By car
The university can be reached by car via the highway A7. Exit the A7 at Linz-Dornach and continue straight ahead. After passing three traffic lights, you will see the entrance to the university on your left. The postal adress (suitable for your nagivation system) is
Johannes Kepler Universität Linz
Altenberger Straße 69
4040 Linz, Austria
Local transport
The university is next to the tram station JKU | Universität of tram lines S1 and S2. If you are coming from the main train station ("Hauptbahnhof"), it will take about 25 minutes to get to the university. Local public transportation is operated by Linz AG Linien.
About Linz
Linz, at the river Danube, is the capital of the state of Upper Austria. With a population of approx. 200,000, it is the third-largest city of Austria. For tourist information and leisure activities visit the Linz Tourism website.